News:Archive/2009/11/27
Jump to navigation
Jump to search
Glimpse of the future
November 27, 2009
Here is a quick look at what's coming up soon in the world of Adventures in Odyssey. Albums 1-15 will be repackaged without the Gold Series title and be replaced with the familiar more colorful look of albums 16-50, first up is album 3, soon afterwards, the repackage of album 26 will follow. A re-release of Passages books is coming up in the future, with new covers and color pictures. Also album 52 has entered the production process with work beginning on the first 6 episodes.

blog comments powered by Disqus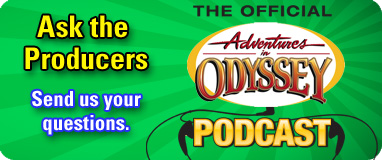 Ask the Producers
November 27, 2009
You've heard the Passages dramas. You've seen the video podcast and preview of album 51. Are there questions about Passages, album 51, or Adventures in Odyssey in general that you've been dying to ask? Ask away in the comments, and we'll choose some of these questions to answer on our next podcast!