News:Archive/2009/09/11
Jump to navigation
Jump to search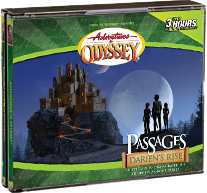 Darien's Rise
September 11, 2009
Darien's Rise is now shipping from CBD. If you've pre-ordered you should be receiving it very soon, and if you order it now, it should show up in a few days.

blog comments powered by Disqus
Rating System
September 11, 2009
We are pleased to announce that anonymous users are now able to vote on episode ratings.